Is blogging  useful? Creative? Time wasting?  Does it matter if no one but you ever reads it? Am pondering these questions but meanwhile, inspired by the awesome Sarah McIntyre, who blogs as she breathes , and Helena Pielichaty (ditto) here goes.  CWIG – the children's book bit of the Society of Authors had a conference last weekend. Jane Ray was asked to talk and sweetly twisted my arm to join her. So here we are.
We were so nervous we barely slept and spent breakfast looking glumly at each other.
I said 'Oh dear'. She said, 'Oh dear'.
Then I said 'Oh dear'. And she said, 'Oh dear'.  And then I said, 'Oh dear, oh dear" and she said 'Oh dear, oh dear, oh dear". And then I said, 'Oh dear, oh dear, oh dear" and she said 'Oh dear, oh dear, oh dear, oh dear".(You can see why I get paid to write).
Nicola Smee kindly helped us to talk about our pictures and Sarah drew us…. (oh thank you Sarah, I drew you too)
Jane Ray and Ros Asquith by Sarah McIntyre
What else do I remember?
The poet Rachel Rooney making me feel it was ok not to blog, but to dream… here's her beautiful first solo collection, which won the 2012 CLPE award
Young Bond author Charlie Higson on why men love James Bond 'He has no wife, no responsibilities, lives in hotels, eats in restaurants and gets to kill people…'. Perfect.
Geraldine McCaughrean telling us she HATED 'Peter Pan' as a kid, and never would have got to write the sequel if she hadn't won the chance in a competition. I entered that competition too… but then Geraldine is a genius…
John Dougherty singing Bye bye miss American pie, and showing a great video about Ed Vaizey. link to it on you tube, arf arf.
Kevin Crossley-Holland breaking into fluent anglo-saxon (and telling us he only read one book as a child)
Allan Ahlberg, who told us such sweet stories we all felt he'd lent us his soul for an hour… and here he is, magnificently captured by Sarah McIntyre.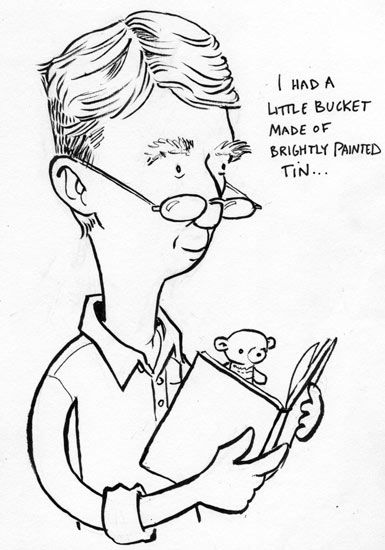 So thanks to the CWIG panel of noble illustrators and writers for a thousand great chats with about a hundred damn fine women and thanks for letting me  doodle with Ted Dewan…
Ros Asquith, Ted Dewan, CWIG 2012
Read more about it and check out all the blogs on #CWIGConf2012,