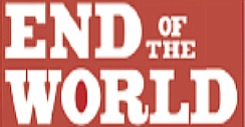 It's the end of the world for the News of The World. All writers, not only journalists, might be considering the consequences. Do we hope to use language to illuminate?
I first read the News of The World when I was nine years old and stopped reading it a year later. That's because it boasted about paying for an operation that made a blind man see and immediately whisked him off to visit the Seven Wonders of the World. He was photographed by the Hanging Gardens of Babylon, but he didn't look too happy. I felt he might need a bit more time to accustom himself to seeing. Perhaps he might prefer to look at a sugar lump, or a tree, or his wife's face, for a few days before being baffled by a pyramid. Even ten year olds -and perhaps especially ten year olds- can tell a phoney story.
But it's taken the heroic journalist Nick Davies to uncover the real phoneys. There's a pun there somewhere -ah, phoney hacking? He spent two years on this story. Makes me proud that I draw for the Guardian. And here's a link to the Guardian editor, talking about it all.
Good  to see someone who weighs things calmly, isn't it? http://www.guardian.co.uk/media/video/2011/jul/09/phone-hacking-alan-rusbridger-video