Busy week for me, because I really like just sitting around dreaming. Or quietly drawing. But I wish everybody would draw more, so that's why I mosied along to The Guardian newspaper's  BIG DRAW last Saturday. Here is just one  of the many many wonderful ALIENS YOU CREATED. (Hope to add more later)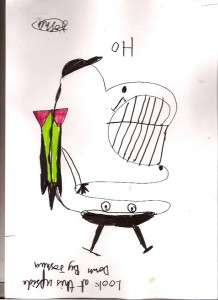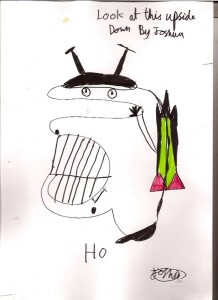 Joshua drew this alien that works if you turn it upside down…… One way it's called OH and the other, HO.
Oh ho!
Over 350 people took part in masses of activities including drawing cartoon strips, hang out your washing, mono printing, waves will bring your dreams, alien invasion, ideas and expressions, taking a line for a walk, Halloween cards, imagination planning, alien squiggles (that was me), stencilling books, geometric images, random post, fantastic creature collage, using the lightbox to create cartoons and caricatures and drawing music. There was also a range of talks from Posy Simmonds, Martin Rowson, Chris Riddell, Judith Walker and Kevin Whitney
Artists and illustrators involved included Caroline Holden, Marie-Helene Jeeves, Geoff Thompson, Alex Leadbeater, Otto, Steven Appleby, Ros Asquith, (oh, that's me) Mary Pullen, Michael Challenger, Joanne Ayre, Lawrence Zeegen, Geoff Grandfield, Sally Kindberg, David Page, Jane German, Kipper Williams and Jim Sillavan.
And big thanks to all of you who said such kind things about my humble aliens. Remember to book early next year and get everyone you know DRAWING. Read more here:
http://www.guardian.co.uk/gnmeducationcentre/cartoon-and-art-family-day
I also visited two fabulous schools in Grantham: Harlaxton Primary (hooray) and St Mary's (Hurrah). Hope to get some pictures of the wonderful aliens the children drew.
AND I have two exhibitions, one at the Karamel Club with Matthew Green and Mark Oliver http://www.karamelclub.co.uk/
and one at Muswell Hill Library with Jane Ray and Kathy Henderson which is 80 years old on October 15th. Now for a nap. Zzzzzzzzzzzzzzzzz.