Goodness, it appears the Royal Family is very expensive. It costs 112 times more than the Irish president and the equivalent of thousands of nurses, police officers and teachers according to a new report. www.republic.org.uk/royalfinances
But if we banned the Monarchy what would that mean for children's books? Where would we be without Lauren Child's 'The Princess and the Pea'? Or Babette Cole's Princess Smartypants ?Or Gillian Rogerson and Sarah McIntyre's  You Can't Eat a Princess! These are all gorgeously funny books, whose Princesses are far from passive, yet Amazon has 25,028 titles in its children's books section that feature 'Princess'. That's nearly twice as many as titles featuring ponies or football.
This was my-less than subtle- take on the issue way back in 1998 in the 'Teenage Worrier Pocket Guides Omnibus Edition'.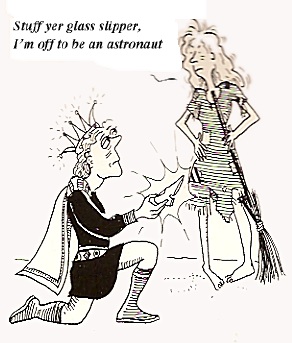 Have I mellowed since then? I am doing a picture book about a Fairy, as it happens, although rather a fierce one.  But do little girls still genuinely love Princesses, or are they thrust upon them?
And while we're on the subject, could we please stop referring to any girl, or any princess, with half a brain as 'feisty'?