I'm thrilled to hear that Letters from an Alien Schoolboy: Has been shortlisted for the Tower Hamlets Book Award – Fronter It was chosen with five other books from 30 titles and the vote is on Nov 25th.Here's my original drawing for the cover.
You can see the final version on my books page  and also take a peek at the second book in the Alien schoolboy series ,' Cosmic Custard' which will be out in October.
Bad news for reading though -apparently the government is intending to give all Year One children a phonics reading test to show whether they can spell out words just from the letter sounds. As most parents and teachers know, phonics CAN be a helpful aid to reading, but it can also be useless. If it worked for everything, then 'Phonics' itself would be spelled 'FONIX'. Also, this test, will apparently use made up words…Here's my Guardian cartoon on this subject.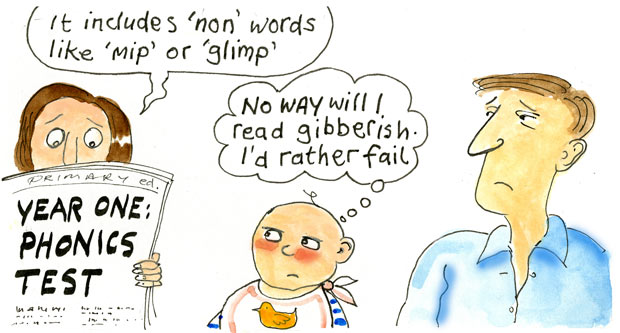 And  while we're at it, here's a grumpy cartoon on the misuse of apostrophes. They're often called "greengrocers' apostrophes", which is unfair on greengrocers but makes for a joke or two.