'The Great Big Book of Families' by Mary Hoffman,  illustrated by me and published by Francis Lincoln has been shortlisted for the School Libraries Association Award.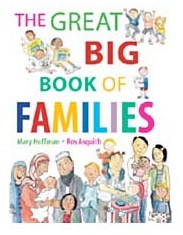 http://www.sla.org.uk/information-book-award.php
The GBBF as we now call it, celebrates families in all their variations and has been published in twelve languages.  Just for fun I'm printing the google translate version of a German review from Amazon. I think the reader liked it.
"Is an individual family life, which allows all imaginable variations! That this picture-book with the old cliché of propperen, standardised family being duly tidies up already, underpinned the first double-page spread, where it says "long, long time ago saw most families so from:" is shown a Papa, a mama, a young boy, a girl, a dog, a cat and a cute cottage. Curious i asked myself, what i think will follow on the next pages. With adoptive parents, single parents or same sex couples is demonstrating absolute Zeigeist, but this is only the entry in a wonderful, imaginative book, in which (almost) everything is possible. You can stay here in the high-rise building on the caravan up to the Tent. It is the question of whether you actually must go to school or perhaps not even, in the same way, on what species the rentals can be made, because not everyone has enough money to travel. How does it with food, clothing, work, hobbies and domestic animals from? Also here, as well as for many other topics knows the book answers, for the one unusual, for the other but quite usually may be. Because what is normal? "OTHERNESS" must not automatically be wrong. Here it does not need a lot of text, in order to be meaningful, the creative and at the same time funny illustrations speak for themselves. Bravo! A book on the height of its time!"
I'm off to Venice now, to write with Mary Hoffman and Michelle Lovric. But I intend to blog  in praise of doodling next week in preparation for THE BIG DRAW, which aims to get everyone drawing. Sharpen your pencils, or your wits, or your peepers. Or all three.
http://www.campaignfordrawing.org/bigdraw/