HOW TO DRAW ALIENS . If you fancy creating your very own alien this Saturday Sept 10th, I'll be doing a workshop at the Haringey Children's Literature Festival 1.00-1.40in the Workshop space at Marcus Garvey Library.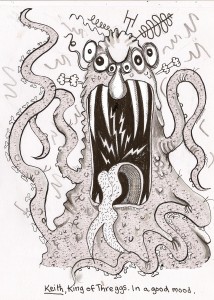 There'll be the Word Play Area, the Super Signings Tent, the Story Telling Tent; a Workshop Space, competitions, and THE Stage, featuring back-to-back talks, presentations and readings from a wide variety of authors and illustrators. The days events will also include the official launch of the library's brand new Reading Garden, created and maintained by volunteers in the community, and a performance of adapted children's book 'Aliens Love Underpants' by Handprint Theatre for an integrated deaf and hearing audience.
Saturday's events will run from 10.00am until 4.00pm, with events kicking off spectacularly at 10.20am, with comedy writer Annie Caulfield talking about her books on THE Stage. Events throughout the rest of the week will be for class bookings – please call 020 8489 1428.
Authors attending include:
Cliff McNish;
N. M. Browne;
Nikalas & Tim;
Ros Asquith;
Sally Prue;
S. C. Ransom;
Linda Newbery;
Karen McCrombie;
Josh Lacey;
Tanya Linch;
Lyn Gardner.
Marcus Garvey Library's Reading Garden will be officially opened on the day by the council, and a food stall will perch itself in the garden, serving tea, and an assortment of tasty foodstuffs throughout the day.
To help you find your way to the festival, there will be a trail of bunting and posters to follow, leading from Seven Sisters tube station (the closest tube to Marcus Garvey Library) all the way to the festival's door – much like Hansel and Gretel following pebbles, but without a cannibal witch lurking about…we hope.
Twitter: http://twitter.com/#!/haringeykidslit
Facebook: http://www.facebook.com/pages/Haringey-Childrens-Literature-Festival/221084884602768